You want to know the level of language required to study, to work or just live in France. This article will tell you everything you need to know to prepare your moving to France.
What is the level of French needed to study in France?
Remember our article about the reasons why you should learn French ? Here, some more explanations.
To enter a university course in France, a minimum level of language is required by universities and "Grandes Ecoles". A test showing your level is compulsory in most cases. Most universities offer language tests and assessments in French. What is the goal ? The aim is to have an official proof of your language level. Find more information from the International Relations Department and on France Education International.
Depending on your situation, you might even need a visa to study in France. On this page, you will find a test to find out if you need a visa or not.
If you want to pursue your studies in France, the minimum requirement is a B2 level (intermediate) in French. Some "Grandes Ecoles" ask for an even higher level, at least C1, to enter schools like Sciences Po, Polytechnique or les Ponts et Chaussées.
If your last French language test is considered too old by the establishment, it is entitled to ask you for a more recent on.
It could also ask you for an English language test if you choose an international course. However, if you want to attend a course in French and you come from abroad, you will need to show a certification of your level in French language. You can get one by taking an official test such as DELF, DALF, TCF, or TEF (French language tests explain in another article) based on the CEFR (Common European Framework of Reference for Languages). International students who already have a French baccalaureate in an AEFE Agency establishment for Teaching French Abroad are exempted.
B1 and B2 levels are recommended for Masters or Degrees studies, especially in humanities and social sciences courses. B2 level is required for a first year under the DAP (Demande d'Admission Préalable – preliminary application for admission). Some French higher education institutions can ask for a higher level (C1 or C2) for specific courses.
What is the level of French needed to work in France?
You wish to work in France so it is essential that you have a good level in French. But there is no immediate need for it. If you come to France to work and live for long-term, you must commit to learning French language.
When you sign the "Contrat d'Integration Republicaine" (Republic Integration Contract) you take a test on your French language knowledge. This is an oral and written test organized by the OFII (French Office of Immigration and Integration). Depending on the results, you will benefit from a certain amount of hours of linguistic training or you will be exempt from it.
This training is free of charge and, depending on your needs, you can get up to 700 hours financed by the French government.
Afterwards, it depends on your job position.  Nevertheless, it is very important to understand that knowing French language is a real advantage at work and whilst looking for a job.
In reality, a B1 level is a good start, but it is rarely enough. French companies don't want to make the effort to integrate someone who is not fluent in French. They don't want to have to repeat the same things over and over again or waste time dealing with misunderstanding.
At B1 level, a person can "understand the main points when a clear and standard language is used". To do this, you can start by taking a Delf B1 to get to know the French work environment.
The "DELF Pro" version (levels A1, A2, B1, B2) is intended for non-French-speaking adults (professionals or in the process of becoming professionals) regardless of the job they do or the position they hold, since the DELF Pro tests are not specific to a particular sector of activity and are designed to be cross-disciplinary.
What is the level of French necessary to live in France?
To live in France, the French level you need will depend on your personal needs. We've already seen the required levels to study and work in France but what about the daily life?
At Europass French Language School, you will find a skilled team who will help you develop your language skills in French.
Each year, France welcomes more than 100,000 foreigners from outside the European Union, from all regions of the world.
France has several important values that are represented in the French Republic motto: Freedom, Equality, Fraternity. There is also the principle of separation of church and state. They are principles of the law that everyone (French citizens as well as any person living or staying in France) must respect. It is not only abstract concepts : these values have practical consequences on the citizens and residents' rights and duties in their daily life.
With an A1 level, you won't have a lot of opportunities to speak with advanced or native French speakers. The A1 level is a discovery level. You will be able to say a few words, and to talk very simply about yourself.
A2 level means that a person is able to understand isolated sentences a frequently used expressions (for example, personal and family information, shopping, work…) to communicate in routine tasks requiring a simple and direct exchange of information on familiar matters. It's a survival level, sometimes enough for, simple and predictable everyday interactions .
From B2 level, French life will be more comfortable and you will be able to ask for the French nationality. Your integration will be easier and more authentic.
You also need to understand that living in France, especially with your family, increases your language needs for health, education…
How do I get a resident permit?
If you are applying for you first resident permit, you must prove that you have an A2 level or higher based on the CEFR of the European Council.
For that you need to:
Have passed a French language test

Have obtained a diploma attesting that your level is, at least, equivalent to an A2 level or that you have had a French education
What is the level of French needed to get the French nationality?
Are you applying for French nationality in order to live in France ? You need a B1 level. However, there are some exemptions :
1. If you studied in French in a French-speaking country. You must provide a certificate of comparability from the Enic-Naric Centre if you obtained a diploma in one of the following countries : Algeria, Belgium, Benin, Burkina Faso, Burundi, Cameroon, Canada, Central African Republic, Chad, Comoros, Congo (Brazzaville), Congo (Kinshasa), Ivory Coast, Djibouti, Gabon, Guinea, Equatorial Guinea, Haiti, Luxembourg, Madagascar, Mali, Morocco, Monaco, Niger, Rwanda, Senegal, Seychelles, Switzerland, Togo, Tunisia, Vanuatu.
For this, you must provide a certificate and a translation of your diplomas such as :
Certificate of comparability issued by the other Enic-Naric Centres, translated into French by an approved translator.
2. You don't have to prove your French language level if you meet the 3 following conditions:
As a political refugee or a stateless person,

You are over 70 years old,

You have been living in France for at least 15 years with a valid residence permit.
3. You have a medical condition that makes it impossible to know or assess your level of French.
Click here or here to find an French language examination centre in France.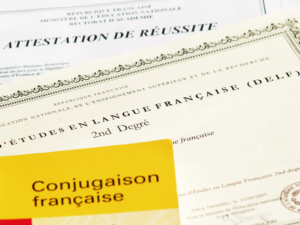 What skills do you need to get a B1 level?
Level B1 has several different skills, the level you need to live in a country. It's the minimum level we recommend to live in France. 
Grammar
       

The agreement of the past participle with the subject (Be) and with the COD (Have)

       

The past perfect tense

       

Indirect speech (present and past tense)

       

The concordance of tenses

       

The subjunctive: possibility and obligation

       

The passive and the passive voice

       

The gerund (like -ing in English): expressing manner, simultaneity and condition

       

Double pronouns

       

Possessive pronouns: mine…

       

Demonstrative pronouns: that one, this one…

       

Prepositions and time adverbs

       

Prepositions and location adverbs

       

Logical connectors for the chronology of a speech: first, then, …

       

Logical connectors for cause, consequence, purpose, opposition

       

The conjunction "so that" + subjunctive
The vocabulary 
       

Daily life : transport, travelling, hobbies

       

Physical description

       

Clothing

       

Feelings

       

Events : meeting, accident

       

The professional world: the company, the job, colleagues

       

The media: newspapers, simple articles from everyday life.
Communication
       

Describe : a person, a place, an object, a fact

       

Setting in time

       

Locating in places

       

Express positive or negative feelings

       

Talk about the past

       

Talk about the future

       

Present your arguments
So, are you ready to learn French? Do you have educational or professional projects? Integration needs? Come and study French with us at Europass French Language School!