Are you planning to study in France ? There are several options for foreign students in France. All major cities have a wide choice of schools and an extremely pleasant lifestyle. This article will explain why we recommend those cities. 
How many foreign students are there in France? 
In the 2020/2021 academic year, 278,278 internationally mobile foreign students enrolled in France.  68.3 % of them went to university. Women are in the majority among them in international mobility at university (52.6 %) for most origins except for Morocco and several West African countries.
There were 370,000 foreign students at the start of the 2021 academic year… a rise after the CoVid epidemic.  
Why study in France?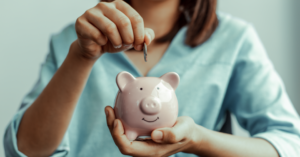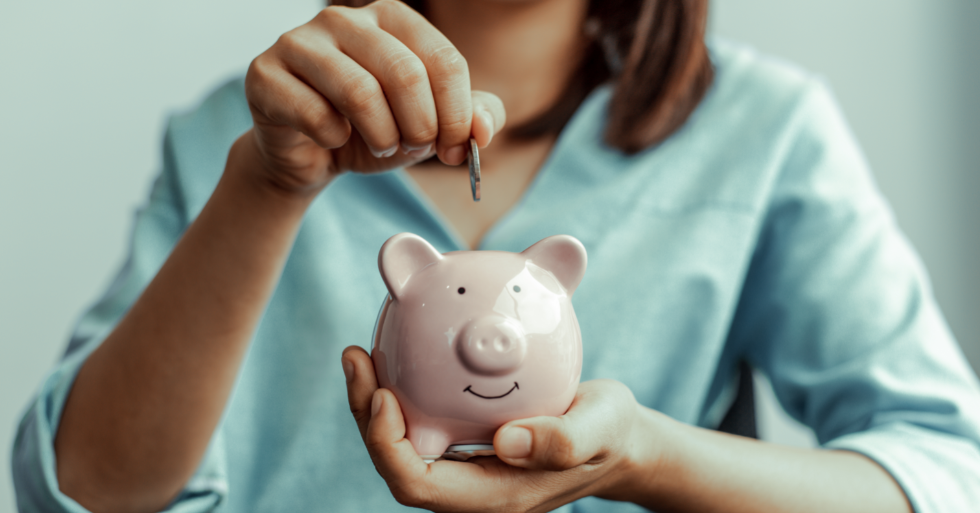 France offers a wide range of universities and other renowned grandes écoles (La Sorbonne, HEC, Polytechnique, ESSEC, etc.), which are ranked among the best in Europe and the world. 
Students who are fluent in French and have a sufficiently high level of proficiency can join these institutions. 
Under certain conditions, these students can also benefit from French government scholarships to follow a postgraduate course in France and obtain an internationally recognised degree.
These schools are spread all over the country, so each student can also choose the place where he or she wants to study.
France has a long university tradition. Coming to study here for a longer or shorter period of time, an Erasmus year, is an extraordinary life experience as you discover as much about yourself as about the outside world.
To come and study in France, you need to take exams that certify your language level. With a Delf B2 :
Firstly, you can enter a university in France without an additional language test, although you may be asked for a more recent test if yours is deemed too old.
Secondly, it is possible to benefit from diplomas recognised by French-speaking universities all over the world, from Belgium to Canada.
Finally, you will have a real advantage for your professional career.
Finally, France offers an excellent educational system. It offers high-level diplomas that are internationally recognised. Moreover, it offers an exceptional network of hundreds of higher education institutions and internationally renowned research centres are at your disposal.
France spends almost 20% of its national budget on education every year! This effort represents about 10,000 euros per student per year.
How to choose the best city for your studies?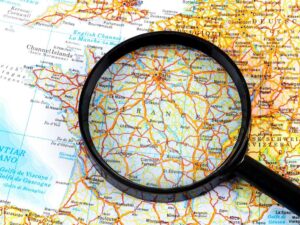 There are so many student cities in France that it is difficult to choose. So here are some criteria that might help you make your choice.
The importance of quality of life
Quality of life is mainly determined by income and interest in your studies, but also by the atmosphere of the place of study. La Rochelle stands out strongly on this criterion, which proves that it is not necessary to live in a large metropolis to enjoy student life.
Many of you also value the atmosphere of a city. The human warmth of the North in Lille, the Breton cuisine in Rennes or the presence of a cosmopolitan population and sunshine in Toulouse are the guarantee of a memorable atmosphere.
On the financial side, rent, transport passes, meals and school supplies… higher education is also a budget to consider. The top five cheapest cities in this respect are Saint-Etienne, Limoges, Poitiers, Troyes and Brest. Coming to study in these cities ensures more reasonable expenses than elsewhere.
On the other hand, you will have to spend more if you want to live in cities such as Paris, Nice, Bordeaux or the metropolis of Marseille, all of which are among the largest cities in the country.
A table comparing the cheapest cities for rent.
Size of the city
Let's face it, when you're a student, you also want to have fun… and enjoy your weekends. The size of the city also counts. 
Among the large cities (between 20,000 and 40,000 students), Caen is the most appealing to young people. Its human size makes it easier for students to meet. Strasbourg, with its European flair, Dijon and Tours are also very popular .
For medium-sized cities, a recent survey showed that La Rochelle remains popular because of its proximity to the sea. Chambéry and Troyes are appreciated for the beauty of the environment with the mountains and the Bourget lake for Chambéry and, for Troyes, the architecture of the city and more particularly the half-timbered houses make the city attractive. 
The environment
France's town halls have many competences related to the environment: waste management, urban public transport or the greening of the city, gardens, parks… ideal for people concerned about ecology and the future of the planet.
La Rochelle, Strasbourg and Rennes are the cities judged the most ecological. Marseilles and Paris were rated poorly.
Educational resources
In addition to a high quality teaching staff and teaching and research activities, the schools provide material resources that are far superior to those of the universities: well-equipped premises, computer equipment, language laboratories, sports facilities, libraries and databases, etc. The tuition fees, which are sometimes high, enable them to offer the best logistics available. 
Chambéry and Lyon offer important technological centres for training and then finding a job. 
What are the best student cities in France? 
The latest surveys have identified the students' favorite cities, all criteria considered (price, accommodation, environment, entertainment, transport, etc.)
Toulouse
Toulouse is the favourite city with more than 130,000 students.
As for the environment, the city offers a great climate, between the sea and the mountains.
Toulouse is also considered the best city by students because of its pleasant social life. The Place Saint-Pierre is a meeting place with many bars and restaurants.
Culturally, the city is very attractive with its theatres, opera and the Carnival parade in March-April. The best student city also has more than 20 cinemas and 10 major museums. 
Lyon
Lyon comes in second place. It is also the third largest city in France. It has a rich cultural offer: 40 cinemas, about 30 museums and about forty theatres.
The city offers a considerable choice of education. There are many grandes écoles in the city and its surroundings, particularly in the engineering schools. Centrale Lyon and INSA Lyon stand out as being among the best schools in the field. However, the city also has a wide variety of other engineering schools, such as ITECH, which specialises in textiles, CPE, which specialises in chemistry and digital technology, ISARA, which specialises in food and agronomy, and even more generalist schools such as Polytech Lyon. On the business side, it is EM Lyon, HEC-ESSEC-ESCP. In other fields, the Beaux-Arts de Lyon, the École Émile-Cohl and ESMA in animation, or the CinéFabrique in audiovisual, are also references.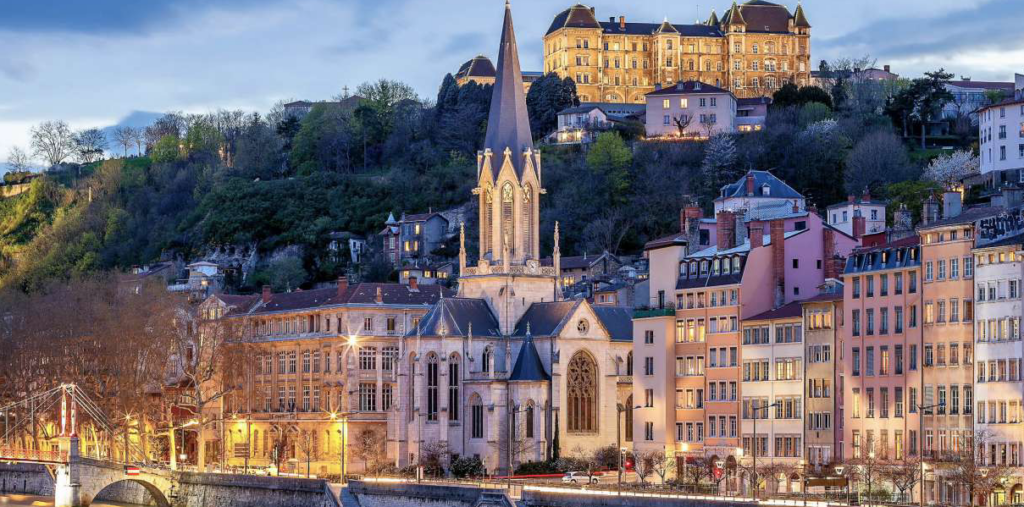 Rennes
Rennes comes in third place. It is a very dynamic city with a lively city centre. Indeed, there are many streets with popular bars. The famous Rue Saint-Michel, otherwise known as Rue de la Soif, is the most festive place. 20% of students who live in the city know how to party and make the city centre lively.
In terms of education, there is no shortage of higher education establishments in the city, which has two universities: Rennes I and Rennes II. In addition, Rennes is also home to the Ecole Normale Supérieure, which specialises in mathematics and statistics research. There is also an IEP of Science Po. At the Rennes School of Business, students are obliged to take courses only in English from their second semester onwards, the school wants to encourage international exchange, welcoming 50% foreign students.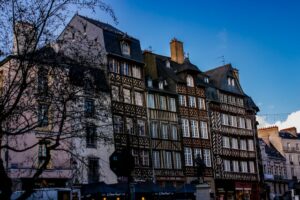 Strasbourg
Strasbourg has more than 60,000 students, 20% of whom are of foreign nationality. The leading university of excellence in France and No. 1 in Europe in terms of innovation according to the 2017 Nature Index, it has five active Nobel Prize winners and 35 faculties…
Strasbourg is France's number one cycling city and is one of the greenest cities in France; the Botanical Garden of the University of Strasbourg, the Orangery Park… On a professional level, Strasbourg is also a capital of the European Union, and is the seat of the Parliament. 
Strasbourg is also known for its liveliness: the Place Kléber is the meeting point for many people in Strasbourg; the historic district of Petite France, with its canals, typical houses and Alsatian restaurants. Every year in December, the oldest Christmas market attracts over 2 million people.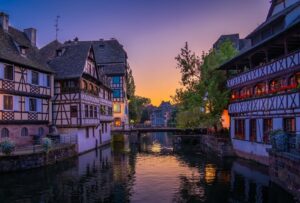 Montpellier
Montpellier is a popular city for French and international students, with over 79,000 students in higher education.
In addition, many students study between 2 and 5 years. 
15% to 20% of the population of Montpellier is a student. Montpellier is also a convenient city to get around: trams, buses and cycle paths are available to reduce the time it takes to get from the university to your accommodation and the city centre. Montpellier has the largest pedestrian zone in France and… the sea is just a few minutes away by tram.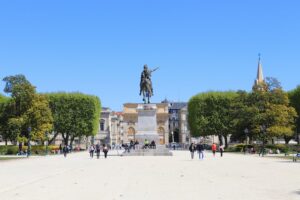 Nice
Even if student is not the first word that comes to mind when talking about Nice, the city of the Riviera, sun, tourism and the Promenade des Anglais, it remains the second university city in PACA. Nice provides an idyllic setting for anyone wishing to study there. Close to the Italian border, it is influential in the city and in the large number of Italians who come to study. It has a great number of courses and institutions for all specialities. 
As far as life after school is concerned, students will not forget to go for a walk along the coast, or to share good times on the Cours Saleya and in the old town.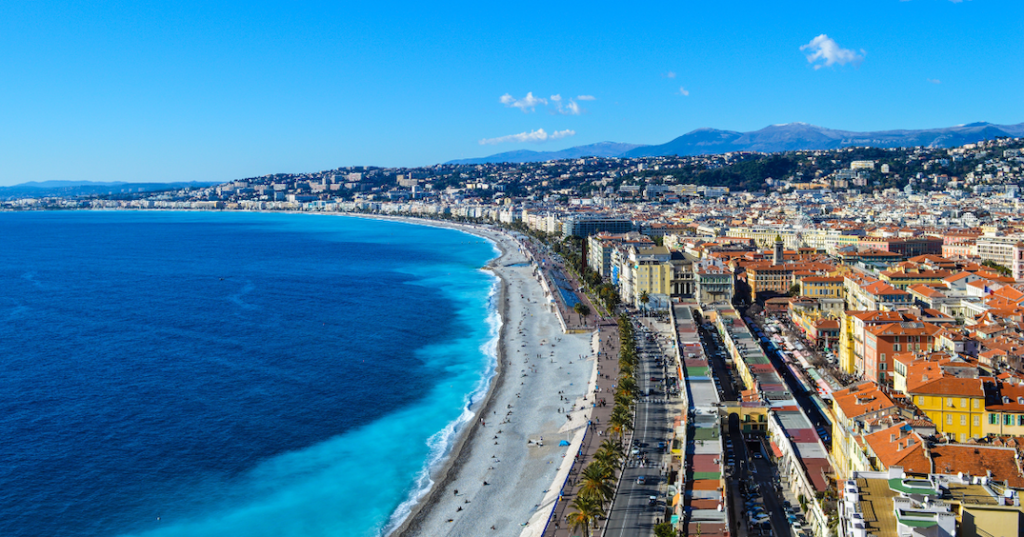 Nancy
Come study in Nancy, one of the largest university towns in France! 51,000 students in 2022, 6,000 university students, renowned schools and an increasingly strong link with the economic world.
In fact, one in six inhabitants is a student. What are they looking for? A university, business, engineering and specialised schools, which offer a wide range of training courses in line with the expectations of the economic world. The short (BTS, DUT) and long (Master, Doctorate) courses, which can usually be followed in initial and sandwich courses, are perfectly well represented. 
Outside the classroom? In addition to an undeniable quality of life and a top geographical location, 1h30 from Paris and the ski slopes, students can find answers to their training needs in higher education. Yes, the Greater Nancy metropolis is attractive in every way.
In another article, we tell you how to get into a French university.