French language certificates or diplomas are necessary to work or study in France and other French-speaking countries and regions; here is an overview of the most recognized exams and diplomas.
There are 5 major French language tests that allow you to be assessed and to come and live in France for a short or long time. There are several versions of these tests.
The best-known certifications, such as DELF, DALF, TEF or TCF for example, will give you a certificate with a score at the end of the exam.
French language certificate for education and employment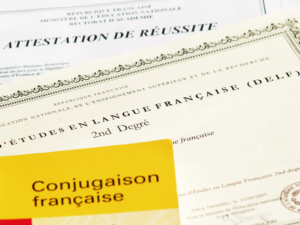 Most universities or companies require a minimum level of French, but for many learners, it is often difficult to determine their level without prior assessment and to know which exam to choose. Knowing your level also allows you to choose the most appropriate course for your needs.
1. The French certificate  DELF, from the age of 6
Managed by France Education International, the French certificate DELF (Diplôme d'Études en Langue Française) is for children (from 6 years old), teenagers and adults.
These French language tests validate your level of proficiency in French according to those defined by the Common European Framework of Reference for Languages (CEFR):
DELF for all, "Junior/School" or "PRO": levels A1 to B2 of the CEFR,
DELF "Prim" (for children aged 8 to 12): levels A1 and A2 of the CEFR.
You can register for the DELF exams in 164 countries. There are more than 1,000 exam centres. The price depends on the centre.
What are the sections of the test?
All DELF exams are made of 4 compulsory sections: oral comprehension, written comprehension, writing and speaking. Each candidate receives a total score out of 100 and the diploma is valid for an unlimited amount of time.
A mark below 5 to only one of the sections and you are disqualified. So, make sure you are prepared!
Each French certificate DELF  has the same requirements in terms of skills. A school DELF is not easier than a general public DELF for example.
Since 2020, the DELF exams have progressively changed. The comprehension section is now in MCQ format with 3 choices and no justification required. Remember to practice.
IMPORTANT : some universities will ask you to take a new test if they judge that yours is too old.
You can register to the exam if you think you can :
A1
A2
B1
B2
Introduce yourself or someone else

Understand ads and simple oral production

Understand short and simple texts

Fill in a form with your name, nationality, address etc.

Write a short postcard

Answer simple questions about your  name, nationality, hobbies etc.

Ask simple questions to someone

Buy and pay something

Do simple daily life tasks (go to a shop, asking information, taking public transport…)

Use the most common form of politeness and exchange

Talk about a past event

Understand a simple conversation

Talk about your likes and dislikes and explain why

Talk about your daily life and you environment (hobbies, family, friends, work)

Understand and respond to a personal letter (to invite, to thank or to apologize to someone)

Understand directions to find your way

Link sentences with "and", "but", "because"

Recount an event, an experience, a dream

Describe a hope, a goal, a project

Give your opinion and justify with arguments

Express your feelings

Express your agreement or disagreements and explain why

Understand the main events of the news (newspaper, TV news, Radio news)

Make proposal and hypothesis, give advice

Convince somebody

Manage unpredictable situations

Give a presentation, a speech in a logical order

Defend your opinion by giving arguments and examples

Develop your point of view and talk about advantages and disadvantages

Express the cause and consequence

Convince someone

Correct yourself when mistaking

Take notes

Reformulate an idea and explain the implicit

Understand the essence of a news document
2. The DALF (Diplôme Approfondi de Langue Française), for higher education C1 and C2
DALF Diplomas are under France Education International authority, and they are reserved for people who already have a good level in French. There are 900 DALF exams centres spread in 154 countries.
The C1 speaker is autonomous. He/she is able to communicate easily and spontaneously. He/she has a wide lexical repertoire and can choose an appropriate expression to introduce his/her comments. Produces clear, well-constructed speech without hesitation, showing controlled use of sentences structures.
Many "Grandes Ecoles" often require DALF C1.
Language proficiency is reflected in a degree of accuracy, suitability and fluency of expression. The C2 candidate is able to perform academic or advanced tasks.
What are the sections of the test?
The French certificate DALF exam is composed of 4 sections: written comprehension, oral comprehension, written production and oral production. To obtain the diploma, the candidate needs a minimum of 50/100 for final score. It has no time limit.
The duration of the test is 5h30 for C1 and 5h for C2.
You can find examples of DELF and DALF tests on France Education International: https://www.france-education-international.fr
You can find a series of videos about the DELF and DALF speaking and listening tests by clicking on this playlist.
French language certificates for naturalisation and education
3. The French certificate  "TCF" (Test de Connaissance du Français), from the age of 16
The TCF is for non-French speakers aged 16 and over. This test is organized by France Education International, formerly CIEP. To take the TCF, you must go to a TCF centre close to your home. There are more than 700 centres spread out in different countries.
The TCF is recognized by:
the Ministry of Higher Education, Research, and Innovation,

the Directorate for Integration and Access to Nationality under the Ministry of Interior,

the Ministry of Culture,

the Ministry of Immigration, Francisation, and Integration of Quebec,

the university authorities,

the language training centres,

the professional world.
What are the sections of the test?
The TCF is divided into 5 sections – three of which are compulsory – with a total of 76 items and a duration of 1H25 (oral comprehension, mastery of language structures, written comprehension) and two optional sections (oral expression, written expression). The difficulty of the questions in each section increases from A1 to C2.
Please note. For a computer-based test, there are 91 items in the MCQ. Compared to the paper version, there are 15 more items (5 in each skill), but they are not included into the final score. They allow France Education International to analyse the validity of the items.
Written expression and oral expression sections are optional.
Oral expression: Individual test face-to-face with an examiner: 3 exercises
Written expression: Group test: 3 exercises
The TCF is a snapshot of your skills, so don't be surprised if you get A2 in reading comprehension and B2 in speaking for example!
Your level certification is valid for two years.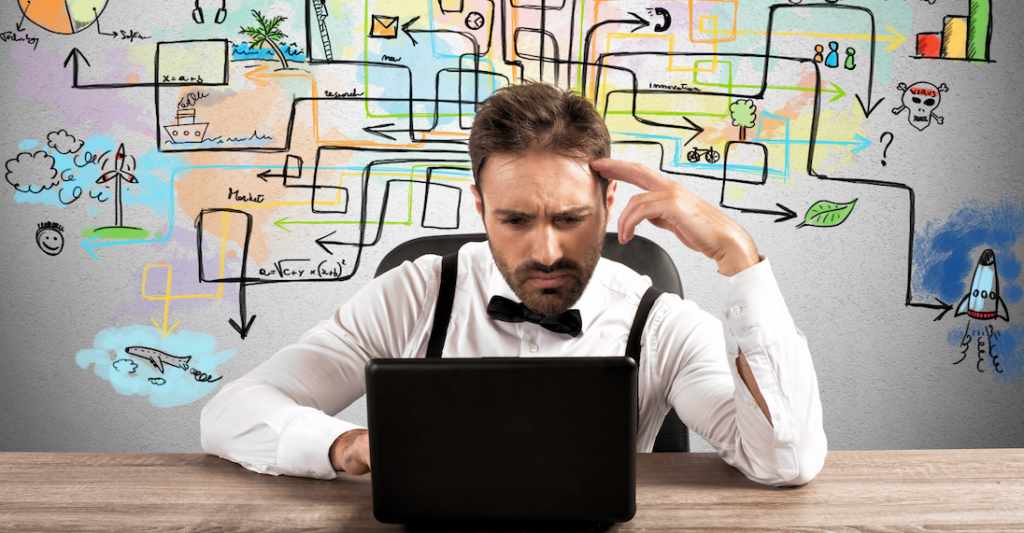 4. The French certificate  TEF (Test d'Evaluation de Français), from the age of 16
Created by the Paris Ile-de-France Chamber of Commerce and Industry in 1998, the  French certificate TEF is aimed to people over the age of 16 whose mother tongue is not French.
The TEF allows you to:
join a school or a university,
obtain French or Swiss nationality with the TEF Integration, Residence and Nationality,
obtain a residence permit in France with the TEF Integration, Residence and Nationality,
upgrade your A1 level as part of the CIR (Republican Integration Contract) with the TEF Integration, Residence and Nationality,
immigrate to Canada and obtain Canadian citizenship with the TEF Canada
immigrate to Quebec with the TEF Quebec (TEFAQ)
What are the sections of the tests?
In the exam, the candidate must take three MCQ tests (reading, listening, vocabulary and structure) and two production tests (writing and speaking). Depending on the version of the TEF, some sections are not compulsory.
Written comprehension: 60 min – 50 questions
Oral comprehension: 40 min – 60 questions
Written expression: 60 min – 2 topics
Speaking: 15 min – 2 interaction topics with an examiner
Vocabulary and structure: 30 min – 40 questions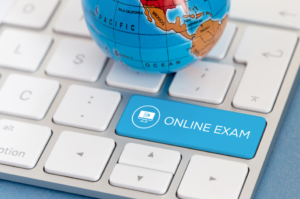 5.

The French certificate TFI (Test de Français International)

The TFI evaluates the ability to communicate in an academic and professional context. This French certificate is aimed at people from beginners to advanced levels (from A1 to C2 of the CEFR).

The TFI helps to:
add values to your trainings and development programs,

g

ive a competitive advantage to job seekers and employees,

e

nable higher education institutions to prepare students for the international workplace,

s

ucceed in the international workplace
What are the sections of the test?
The TFI is divided into two sections of 90 questions on a MCQ format: oral comprehension and written comprehension. You will then get a score between 10 and 990. The TFI score is valid for a period of 2 years. The exam last 2 hours.
At Europass French Language School Nice, we prepare you for the different French certificates and we organize TCF and TEF tests in our premises. Don't hesitate to contact us for more information.